20/03/2017 - International Day of Happiness
02/03/2017 - Postgraduate student Ines Almeida makes invisible disabilities visible in children's books
19/1/2017 - Studente IEC in Seoul voor internationaal pestactieplan UNESCO
24/6/2016 - Graduation speech - PIEC: More than Education
13/6/2016 - Final presentations Capacity Building Course – Spring 2016
25/5/2016 - Participation Student Conference Operation Peaceful Planet (UNESCO ASPNet partnerschool The Hague University of Applied Sciences)
11-13/5/2016 - Excursion to UNESCO HQ, OECD and IIEP (Paris)
28/4/16 - Dialogue as a tool for Citizenship with Amsterdam University of Applied Sciences
23/3/16 - Intercultural Lunch Dialogue, after the Brussels attacks
1-5/3/16 - Participation KULMUN 2016 (Model UN)
26-27/11/2015 - 2-Day Training IIEP International Institute for Educational Planning
18-20/11/2015 - Organisation MUNESCO 2015 (Model UNESCO)
9-10/11/2015 - Excursion to The Peace Palace and ICJ (The Hague, NL) and UNESCO IHE (Delft, NL)
14-15/9/2015 - 2-Day Retreat : Making Cultural Diversity Work
On March 20 we celebrate the World Day of Happiness. For this reason, a number of ASPnet schools from  Flanders and Brussels came together to celebrate at the UCLL campus Comenius in Leuven. There was no better way to celebrate the day than to create a project that would promote change and  of course greater happiness in schools.
About the project
Students were first asked questions about their understanding of happiness and asked to explain their perspective:   What makes them happy? And, what do they usually do to make others happy? Students were then divided into two workshops according to their ages.  From the 17 UN Sustainable Development Goals or SDGs, they picked two goals.
They brainstormed about what they could do in schools to transform the world into a better place.  Keeping the SDGs in mind, they focused on issues like: Gender Equality, Quality Education, Clean Water & Sanitation, Good Health & Well Being.
The pupils came up with several ideas such as to replace unhealthy snacks in schools with healthy ones. Also, they emphasized organizing community dinners, which would build a bridge between those who are disadvantaged in a community and those who are not. 
Other groups looked at themes like: 'life underwater', 'teamwork', 'sustainability' and 'clean water'. They were encouraged to come up with realistic ways in which these ideas could be implemented in their school, neighborhood, community, etc..
It is a good idea to do these things in schools because it brings people together and helps them make the school a better place.
Happiness all day long
The idea of happiness was constantly reinforced throughout the day. For example, during a break, the pupils were encouraged to dance. As crazy as it might seem, this motivated them to think out of the box. They came up with the fantastic idea that their school needed an aquarium, which would make the students happier. The tank and fish could be purchased through group fundraising and the tank could be maintained by the pupils. This idea brought together all of the elements required to increase happiness of the pupils and enhance the school climate. The pupils presented their ideas with great confidence and pleasure to a jury of ASPnet coordinators, teachers, and students. 
Watch the video (link is external)
Written by PIEC students Spring 2017 - 20/03/2017
The Project "Out of Sight" is a collection of children's books based on the first-person perspectives of persons with invisible disabilities. The stories happen in a universe where people can be followed by animals that are invisible to everyone but themselves, which mirrors the experience of persons whose struggles are invalidated because other people cannot see their conditions.
The first book, developed as part of the internship for IEC, tells the story of Alex and Migraine, the woodpecker. The story also includes other animals: Lupus, the wolf; Depression, the elephant; Schizophrenia, the cricket; and Asthma, the snake. The use of animals as metaphors brings a visual element to the story, which removes all doubt that these conditions are real, despite being invisible to other people.
The Facebook page (www.facebook.com/OutOfSightChronicles) is being used to raise awareness about the project and to find people with other invisible disabilities who might be interested in helping expand the collection.
The book can be found on CreateSpace (http://createspace.com/6874780), Amazon (https://www.amazon.com/dp/1542651077/) and Amazon UK (https://www.amazon.co.uk/Piece-Mind-Out-Sight/dp/1542651077/).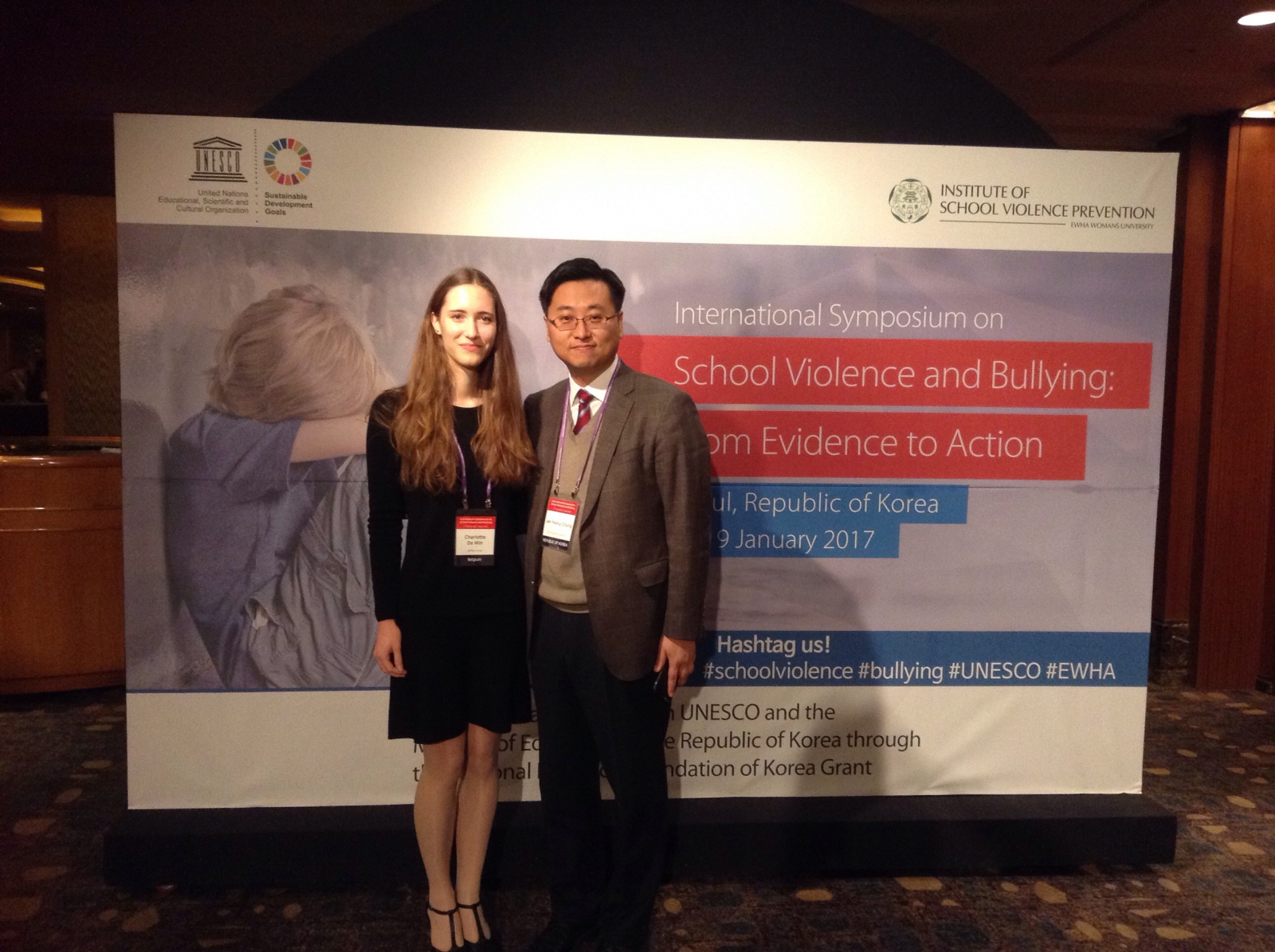 Charlotte De Win, studente aan de Lerarenopleiding van hogeschool UCLL, neemt deze week deel aan een internationaal UNESCO-congres over pesten op school. Samen met 9 andere buitenlandse studenten kreeg ze van UNESCO een exclusieve uitnodiging voor Seoul, om haar visie te geven op hun plan over 'School Violence and Bullying: From Evidence to Action'.
Aarthi Srinivasan, an Indian student in PIEC Spring semester 2016, testifies … Read the graduation speech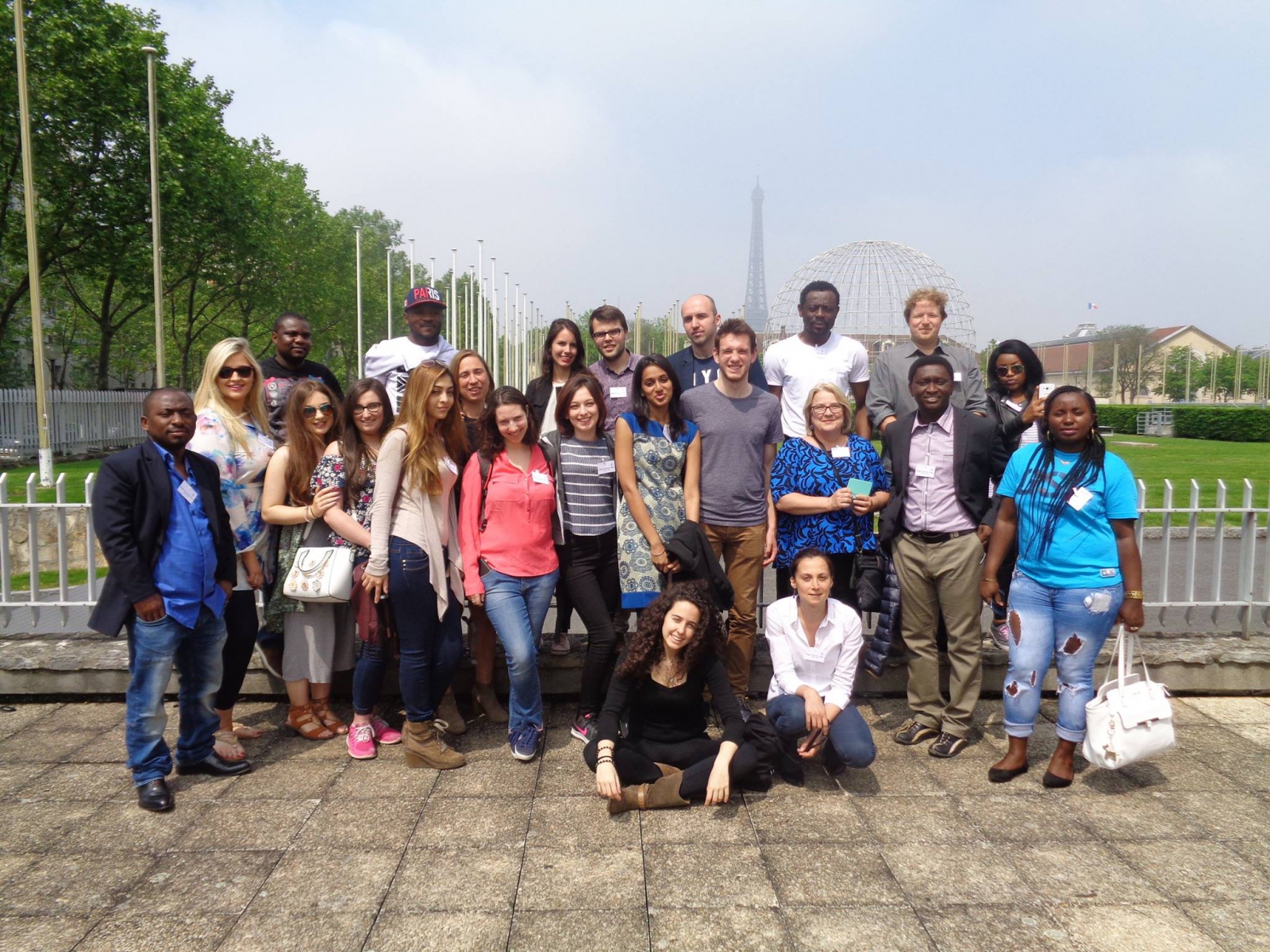 During the past Spring semester, the international students, who participated in the course Capacity Building and Innovation answered the question "How can we learn to live together?" by designing and developing four projects that aimed at discovering and building the capacity of the other through the heart of education: the UNESCO pillar Learning to Live Together. Read more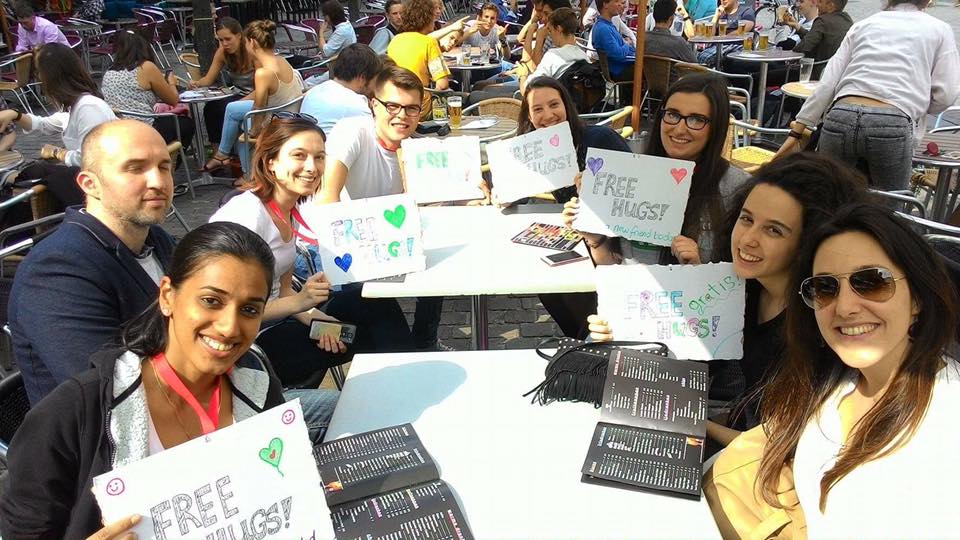 As a UNESCO training institute, it is our aim to connect with similar institutes in other countries. A close partner is the The Hague University of Applied Sciences in the Netherlands, which we visit yearly to be submerged in a project in which their students prove their skills. Last years' project theme was "building walls of separation", this year we analyzed an intriguing question: "should we spend more money on military defense or on education?" Thus we were invited to think about a future in which nations are either divided or united. After a few eye-opening lectures from experts, we participated in student-led workshops. A roundup was followed by social activities, enabling students and lecturers to meet informally.
The diverse multi-cultural group of Erasmus and PIEC students headed to Paris to visit the OECD (Organization for Economic Cooperation and Development), the IIEP (UNESCOs International Institute for Educational Planning) and UNESCOs Headquarters.
Lecturer Melanie van Oort-Hall: "Those, who are interested in social media and in development studies, have probably come across the new social media trend and critique of traditional western models of development studies:  read more... "
28/4/16 - Dialogue as a tool for Citizenship with Amsterdam University of Applied Sciences
De UCLL lerarenopleiding steunt de missie van UNESCO door de rol van onderwijs centraal te zetten voor het bouwen van vrede in een diverse samenleving. Door het integreren van de "4 pillars of education" in de lerarenopleiding, gaan we voor een holistische en humanistische benadering in het onderwijs. In een tijd van toenemende globale uitdagingen zoals ongelijkheid, geweld en polarisering, aangewakkerd door lokale spanningen en conflicten die de menselijke samenhorigheid ondermijnen, wordt de pijler "Learning to live together" belangrijker dan ooit.  
De internationale klas (IEC) van de lerarenopleiding, met studenten uit o.a. Turkije, Spanje, België, Ierland, Cameroon, Nigeria, nodigde tijdens de voorbije internationale week medestudenten uit om samen te eten. Een kleine dagdagelijkse activiteit, om het belang van "living together" te benadrukken en de rol van onderwijs als motor om dit doel te bereiken. Op donderdag werd er tijdens een paasmaal samen met de studenten Islam gesproken over hoe studenten zich voelen bij de recente aanslagen in Brussel. Op vrijdag wordt de internationale week afgerond met een "potluck" voor heel de campus. Vlaamse en internationale studenten delen zelfbereide gerechten van hun land en leren elkaar kennen.
Dima Bou Mosleh: The Heart of Education: Learning to live together
26-27/11/2015 - 2-Day Training IIEP International Institute for Educational Planning
Model UNESCO (MUNESCO) was aimed to be an authentic simulation of the UNESCO General Conference, complete with the General Assembly as well as a range of other sub-committees, a Secretariat headed by the Secretary General, a Press Corps and of course the delegates.
For the duration of the MUNESCO conference, participants of 17 secondary UNESCO related schools in Belgium and The Netherlands represented a member state of the United Nations. Delegates engaged in debate on how to protect world culture and world heritage in armed conflict.
To promote awareness on the role and capabilities of international institutions, we travel to the Netherlands where we visit the Peace Palace in The Hague and Unesco's International Hydrological Institute in Delft. An interactive museum and an expert guide reveal the story of the monumental Peace Palace and we get an insiders' view on how the International Court of Justice works, based on recent cases. At the International Hydrological Institute, scientific researchers reveal the importance of water for international sustainable development. Besides being a unique experience, the visit supports the IEC modules Education for Social and Human Sciences: Human Rights and Social Justice, and Education for Natural Sciences: Sustainable Development.
PIEC students gain deeper insight into intercultural interaction both in and outside the classroom through an experience-driven approach, discourse based, theory referenced and interaction oriented at the Heerlijckyt van Elsmeren.
Towards an Experience-driven Approach to Teaching
Read also Flanders Today: Lack of diversity among teachers requires open-minded solutions