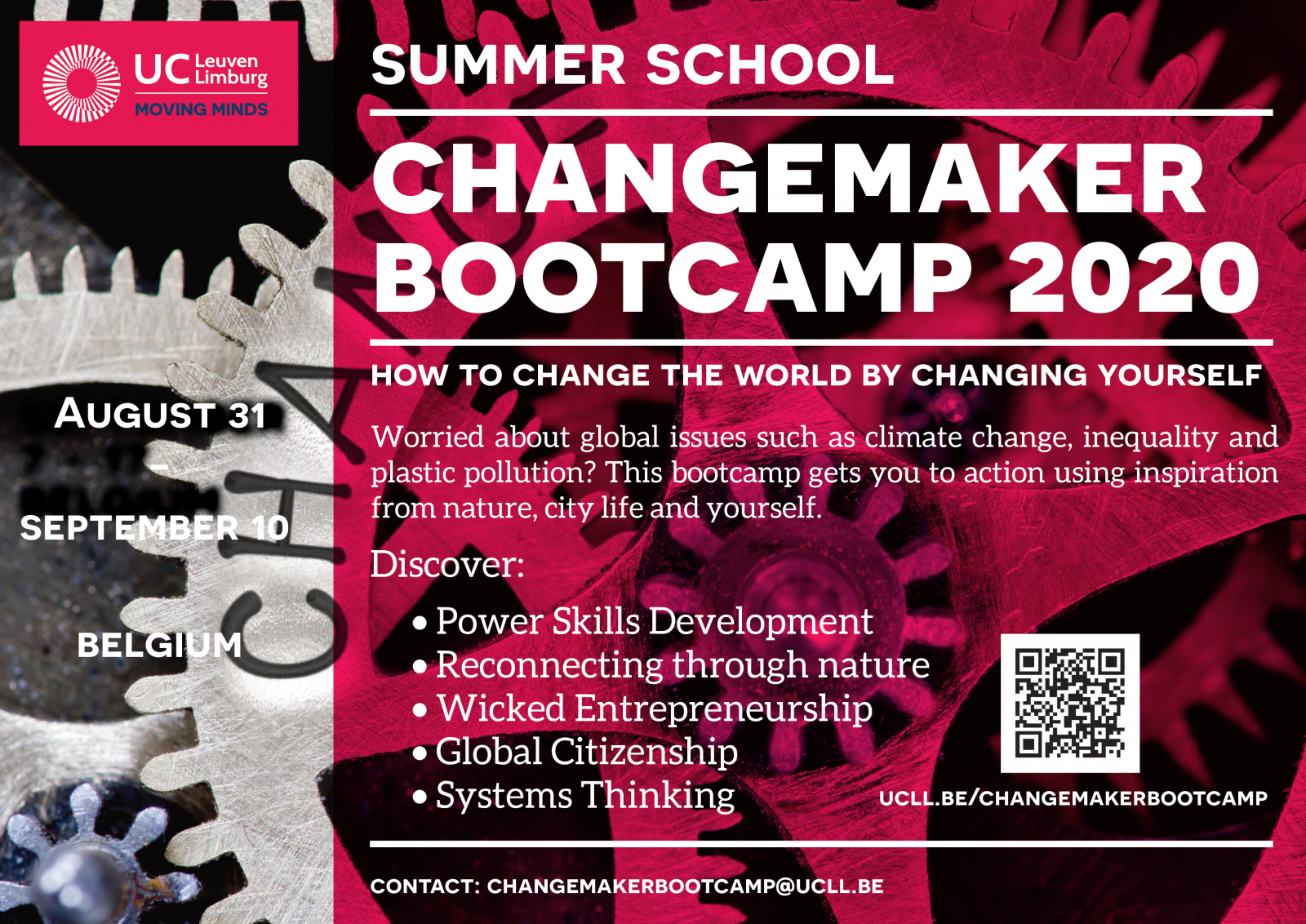 changemaker bootcamp 2020
Worried about global issues such as climate change, inequality and plastic pollution? This bootcamp gets you to action using inspiration from nature, city life and yourself.
From 31 August  to 10  September 2020 a selected group of students with various backgrounds and origins will have the opportunity to participate in the UCLL Changemaker Bootcamp: 
an intensive 10-day life changing summer school
training on how to start making a positive impact on today's society 
3 ECTS
Yes I want to become a changemaker!
Places limited! 
Goal
The goal of the bootcamp is to facilitate the development of a new global generation of changemakers that is well prepared for taking on the challenges humanity is dealing with.  Whether the subject is climate, inequality, pollution, gender or another sustainability topic, we believe that  this training will provide you the necessary skillset, open attitude as well as global perspective to better deal with these issues in your personal career.
The end result will be a a well reflected personal Changemaker action plan: how will you make a positive impact on today's world using your own unique set of talents and skills?    
Training method
A team of inspiring UCLL coaches and experts from various fields such as Business, Social Work and Education will provide an intensive 24/7 track during 10 days. Workshops, interactive lectures, field trips and other inspiring activities will be planned where amongst others the following subjects will be covered:
Power skills development
Systems thinking
Wicked entrepreneurship
Global citizenship
Reconnecting through nature
Cultural and social events
bootcamp schedule (subject to change)

Fee
The registration fee is 1.300 EUR
Included

Expert lectures and workshops
Personal coaching
Official UCLL Certificate (3 ECTS)
Accommodation (10 nights in guest house / hostel)
Food (breakfast, lunch, dinner during the 10 days)
Cultural and social events (movie, exposition, ..)
Local transport (train and/or bus for excursions)
Airport/Leuven Pickup (Monday 30th AM)

Not included

Travel and Visa costs to/from Belgium (we do provide assistance)
registration and Contact
In order to apply, register using the form below and we will contact you in order to see whether the program is right for you. 
Application assessments are completed within one month after submitting the form. 
For all questions and enquiries please get in touch with us changemakerbootcamp@ucll.be
Testimonials
"Very often students stay in the bubble of their campus and their own field of expertise.  By interacting with real world professionals and visiting good changemaking practices both from business as well as NGO's, the Changemaker Bootcamp allows to kickstart the participant's  career in the field of sustainability." 

 Sebastiaan Boussauw, coach, UCLL expert on Business & Sustainability
"I chose to join the Changemaker Bootcamp because it's an amazing opportunity to learn from peers and professionals, to get inspired by innovative mindsets and work together to face the challenges of tomorrow."

 Lotte Eerdekens, participant, student UHasselt Master of Management on Innovation & Strategy
"Bringing together this new generation of graduates from different field and different cultures allows the participants to develop unique skills that prepare them for the urgent challenges our society is dealing with."

 Veronique De Roeck, coach, UCLL expert on Power Skills
"I chose to join the Changemaker Bootcamp because I want to further develop my knowledge about sustainable entrepreneurship and learn how to create a positive impact on our modern society."

 Pieter Seyssens, participant, Entrepreneur and UCLL alumnus