our exchange programmes
We offer exchange programmes on UCLL Leuven and Diepenbeek campuses.
Pharmaceutical and Biological Laboratory Technology is offered only on campus Leuven and focuses on supporting biological (biomedical, biotechnology, ...) and pharmaceutical research. In pharmaceutical and biological technology you are trained to support research in molecular biology, cell and tissue culturing, histology, applied microbiology in research and industry, immunology & pharmacology. The programme is very multidisciplinary. The graduate operates mainly in a biomedical laboratory, a molecular biology research in the pharmaceutical research and in the pharmaceutical quality. Students who follow this specialization, achieve simultaneously the certificate: 'Laboratory Animal Science for Biotechnicians – FELASA B'.
Medical Laboratory Technology is offered on campus Leuven and campus Diepenbeek and focuses on clinical laboratory investigations supporting the diagnosis of a patient. In medical laboratory technology you will learn how to analyse  body fluids, how to trace and identify bacteria and how to study blood cells and tissue samples. Moreover you focus on immunological techniques and medical biotechnology. Medical laboratory technology is a legally recognized paramedical profession, described in the Royal Decree of 02.06.1993 adapted 17/01/2019. The legal requirements of the Decree are fully translated to and recorded in the training programme.
If you are interested in some of our exchange possibilities, please contact your international office. They can discuss your interest with our international officer.
Internship
'Pharmaceutical and biological laboratory technology': within this specialization students perform an internship of 15 weeks in the second semester of their third year. They work on  a small research project with a biomedical, biotechnological or pharmaceutical topic under supervision of a researcher, PhD student or postdoctoral researcher. The student writes a small thesis about the practical work of the research project.
'Medical laboratory technology': within this educational programme there are two types of internship,  both organized in the two semesters of their third year. The first internship is the compulsory one and focuses on hematology, clinical chemistry and microbiology. This internship lasts 12 weeks. The internship of choice lasts 9 weeks and may contain different topics such as pathology, molecular diagnostics, fertility, specializations in hematology, clinical chemistry and microbiology, function measurements and research projects.
International student project
The International student project is a student exchange project between 3 or more collaborating European or international Universities or University Colleges which offer a professional bachelor in 'Biomedical Laboratory Sciences', 'Lab science' or 'Biotechnology'.
In groups of 5 (to 10), students in the 2nd phase of the bachelor programme will participate in a one-week biomedical research project in one of the collaborating Universities or University Colleges. The hosting schools decide on the topic of the project which can be related to point-of-care testing, biotechnology, microbiology, hematology,…. Of each University or University College, a number of students stay at the home institution to accompany students from the collaborating European partners. Together they work on the biomedical project and the hosting students also organize some extracurricular activities in the evening. Each group of students is accompanied by a lecturer which offers also the opportunity for staff to get in contact with colleagues from other countries.
The goal of this international student project is to obtain 100 % student mobility between the collaborating Universities or University Colleges and to offer the students a unique and inspiring life experience!
Educational Programme Leuven
Pharmaceutical & Biological Laboratory Technolgy
Phase 1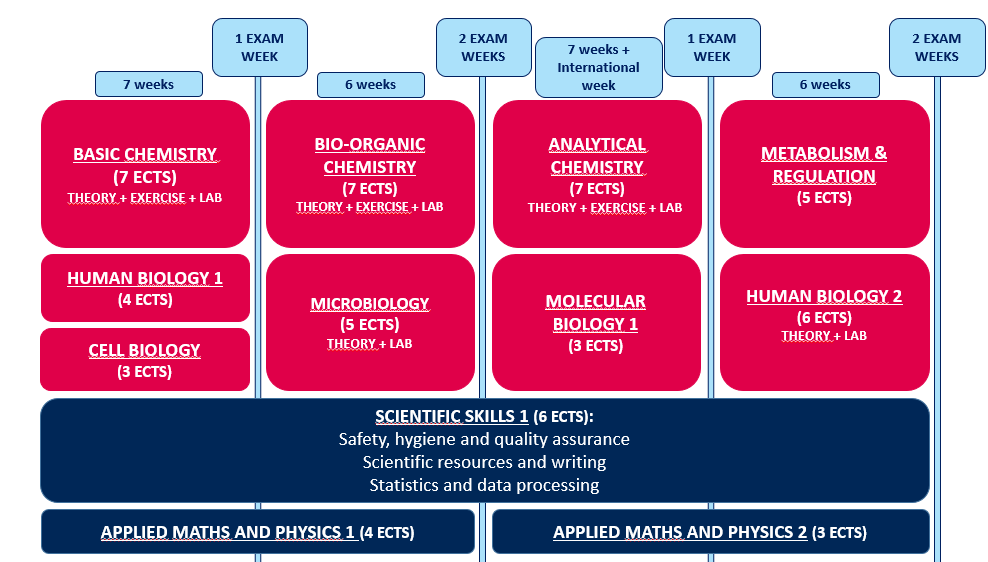 Phase 2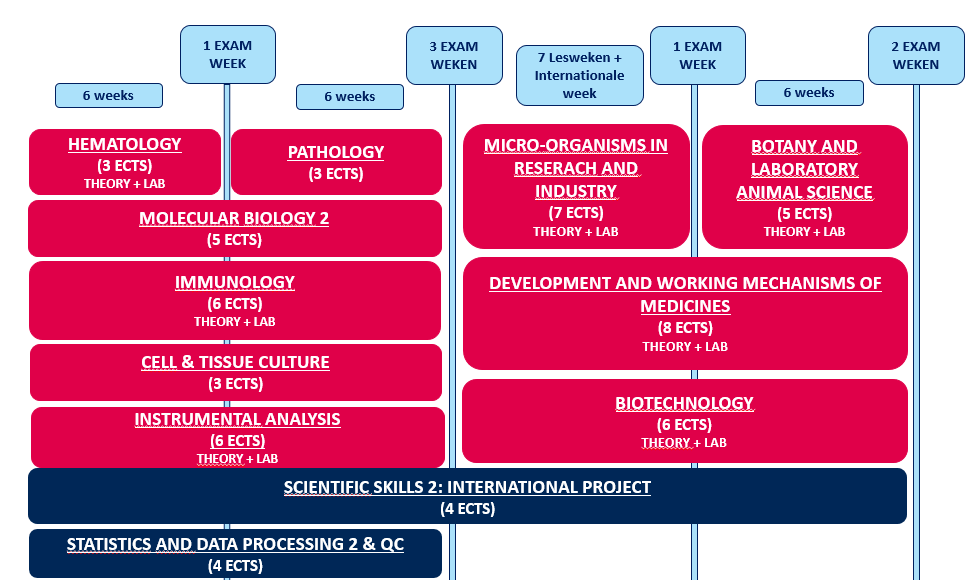 phase 3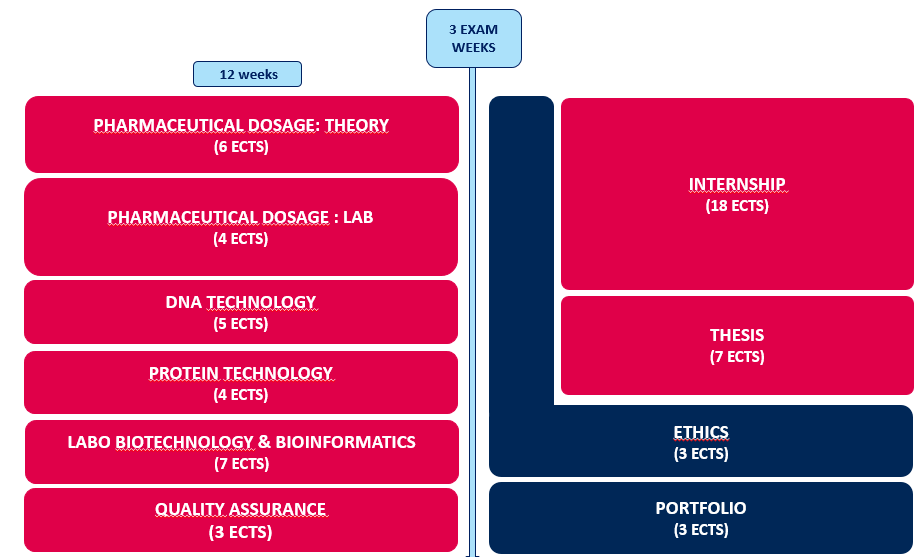 Medical Laboratory Technology
Phase 1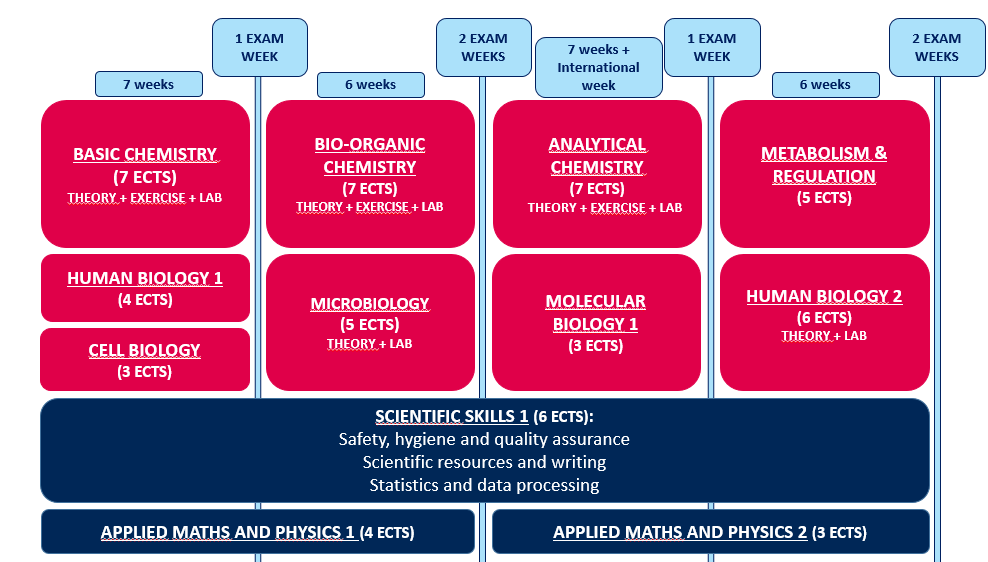 Phase 2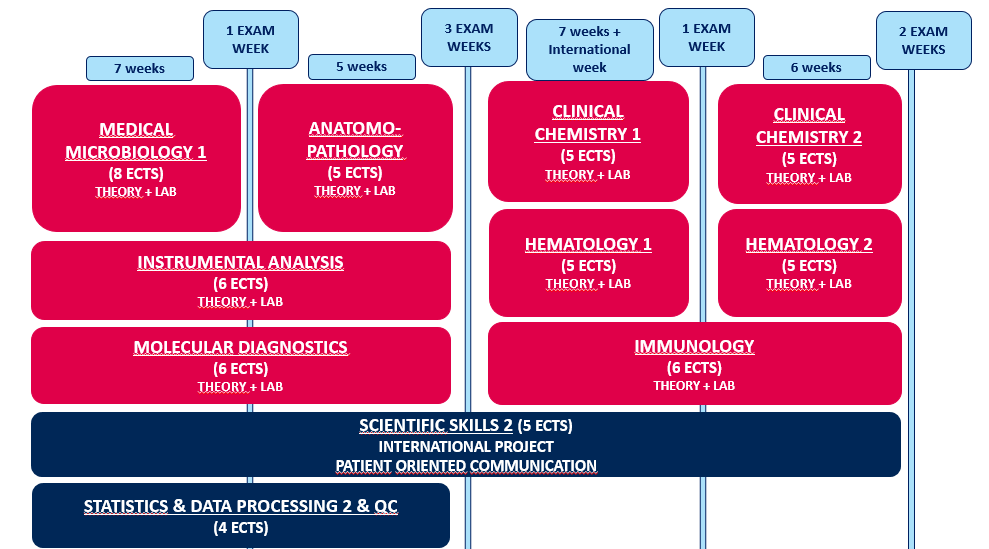 Phase 3